Free same-day personal injury & wrongful death case evaluations
Recover medical bills, lost wages, and an award for your pain and suffering
Expedited free consultations
24/7 concierge attorney services
We fight for compensation you are owed and deserve
Jackson Hagood, personal injury lawyers in Atlanta, GA
Jackson Hagood—statewide personal injury firm headquartered in Metro Atlanta, regularly serving the entire state of Georgia— Sandy Springs to Savannah, Doraville to Dalton, Woodstock to Waycross, Canton to Columbus, and everywhere in between
Georgia Personal Injury Attorneys
We're ready to recover damages you are owed from tough insurance companies.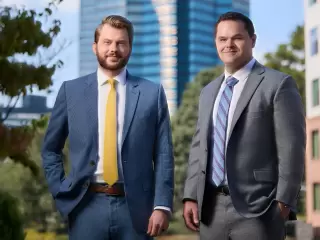 Getting injured is stressful.
If you're seeking legal guidance, we have the expertise that you need. Jackson Hagood Injury Lawyers is focused solely on the needs of our clients.

We know what it's like to be injured because of someone else's negligence and due to no fault of your own. We know what it's like to lose a loved one as the result of the wrongdoing of others. We provide professional and effective and compassionate representation for people during such hard times.
When you need counsel for such a major life event, your search is over to find an attorney who listens, cares, and thoroughly examines and analyzes all of the facts to strive towards giving you the best possible outcome for you and your future.
Case Results
We've recovered $41 Million + combined for our clients in the last 8 years.
$2.4 Million

Truck Accident

Deceased's widow secured beyond the maximum policy limits of insurance coverage due to the loss of her husband.

$700,000

Personal Injury

We fought hard to recover $700K for our aggressive poodle attack: client with mediation to avoid years of protracted litigation.

$262,500

Car Accident

Pre-lawsuit settlement amount for a fractured elbow in Fulton County.
**All cases are different, results may vary
Georgia Injury Lawyers
Skilled legal advice in Metro Atlanta & the entire state of Georgia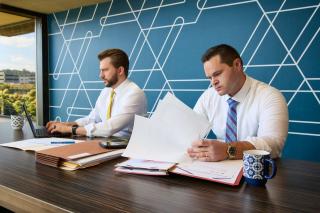 Jacob Jackson and Will Hagood and their team at Jackson Hagood Injury Lawyers are reshaping the future of how people hire and work with an Atlanta Georgia based personal injury firm after being injured or losing a family member.

Jackson Hagood Injury Lawyers harnesses the power of techology and combines that with the human element and touch to provide their clients with a concierge experiences as a part of their model to develop a successful law practice. Jackson Hagood Injury Lawyers empower people who have been injured or have lost a loved one due to car accidents, truck wrecks, slip and falls, dog bites, or other incidents.

They represent people from all walks of life in Metro Atlanta and throughout the entire state of Georgia and offer trustworthy, top-notch legal advice and counsel at the precise time that people need it most after a tragedy or accident.
Why choose us?
6 & 7 Figure Trial Verdicts
152 Georgia Counties Served
Practice areas we handle for you
Personal Injury legal services in Atlanta
With exceptional legal skills, practical solutions, and professional integrity, Jackson Hagood Injury Lawyers works hard to help you get the best possible results for your Georgia personal injury case.
Inadequate/Negligent Security
We've got you
We cover all types of personal injury cases in Metro Atlanta and the entire state of Georgia—but here are a few common reasons you should contact us right away:
Auto Accidents
Your car is totaled you're injured, unable to work, and paying medical bills, copays, and expenses from an auto accident due to no fault of your own.
Dog Bites
You're wondering if it's worth bringing a claim or hiring a dog bite lawyer to sue for damages in Atlanta.
Traumatic Brain Injuries
Struggling to heal and recover all while trying to understand how to advocate for yourself after a traumatic brain injury ( TBI ), especially when symptoms begin to worsen from blunt force head trauma or whiplash.
Workers' Compensation
If you are confused about how to help a family member with a workplace injury, we can help.
What our clients say
We're here to represent your needs and help you navigate the legal system during the most challenging times of your life.
I came to Jackson Hagood really unsure how things would turn out! However Jacob was AMAZING! He was very responsive and professional. Jacob kept me updated at all times on what was going on with my case. With Covid going on, all you really want is someone that cares and understands that people do not really want to travel at this moment in time! I never had to question if he was for me or against me he was just an extraordinary lawyer to work with! He had me when...he worked after hours, on the weekends and that just showed that he really is passionate about his clients. If you are looking for a great Lawyer for personal injuries or whatever i would definitely recommend Jackson Hagood! Satisfied 100%
This was my first time having a lawyer and I was unsure of how it would go. Will Hagood did a great job with my case and exceeded my expectations. He was supportive, personable and compassionate towards me during one of the toughest times of my life. He got me the care that I needed quickly and the chiropractor he recommended gave me the absolute best care during my healing process. He gave me clear and sound counsel, he clearly explained my options and always made it clear that the decisions were mine. He kept me in the loop as things progressed. I'm thankful that I was referred to him.
I honestly cannot thank Will Hagood and his partner enough for providing outstanding counsel. Will was available every step of the way and made sure I had a clear understanding of everything during the process. He also was readily available for any questions I had for my case. After years of poor counsel at a different firm, Will was able to finish and close my case in a very short period of time. If you use Jackson Hagood to represent your case, I can guarantee you will not be disappointed. Thank you again, Will!
Will & his firm took fantastic care of my wife and her case! Thanks, Will!
I am very pleased and highly recommend Jacob Jackson and his firm Jackson Hagood Injury Lawyers for anyone in need of a personal injury lawyer. I had previous experiences at other law firms and it didn't come close to the results, communication, and service provided by Jackson Hagood.
I was injury in a car wreck that was not my fault and they got me 100,000.00! I could not be happier with the way my case was handled. I would recommend their law firm to anyone needing an attorney.
Mr. Jacob Jackson is the best. He's very good at letting you know what's going on with your case and explains everything in from step to step. He listens to you and your concerns and helps you out the best he can. If you're in need of a very good lawyer I would highly recommend Jackson Hagood Trial Lawyers. They are more out to help you.
Experienced professionals who work hard for you! Highly recommend! Thanks!
BEFORE going to Jackson Hagood Trial Lawyers LLC I was dealing with a law firm that did not care for their clients. When I transferred over I started to work with Will Hagood and I would highly recommend Jackson Hagood Trial Lawyers LLC! Will is super responsible, and professional and will get the job done for you! He made me feel comfortable, and stress-free and I definitely felt supported throughout my whole case. Will and his team went out of their way to get me the best outcome for my case. I am very thankful that I chose them to represent me. If you're looking for professional lawyers that will get the job done, stop looking. Hands down they're what you're looking for and beyond!! Once again thank you Jackson Hagood Trial Lawyers LLC!
Jacob is an absolute wiz!.. so glad I made the right choice!
Absolutely amazing lawyer!!!!! He goes above and beyond and never stops fighting. I have had such a hard time finding a lawyer to take my son's case, for three years I have been through many lawyers and Jacob was the one to bring this case to an end and I must say I am absolutely satisfied and thankful that Jacob was the one to represent me and my son. He is an outstanding injury lawyer. He makes the results your looking for happening and doesn't accept anything under. I will also say Jacob personally delivered my check to me, he drove five hours to make sure that it got into the right hands after an unfortunate situation. He is true to his word and seeks justice. So if your looking for an injury lawyer defiantly choose Jacob he won't disappoint you.
Jacob goes above and beyond very responsive love this law firm I would use him again if I ever needed to hire a lawyer again.
This firm fights hard! Great value!
I would highly recommend Jackson Hagood Trial Lawyers LLC! I had the pleasure of working with Will Hagood. He was very knowledgeable, professional, and thorough. Overall, Will made the process very easy, stress free, and kept me informed every step of the way. I would certainly use their services again!
Amazing Law Firm!!! Jacob Jackson has went above and beyond working on my car accident case from day one. I am astonished by the level of compassion, professionalism, extensive knowledge, and superior willingness to listen. Jacob has been the best advocate during this most challenging time in my life! I would absolutely hire him again because he has something that holds value, he has integrity.
Truly thankful for the services of this firm. They were professional and responsive. They showed genuine care and concern for my well being. They displayed the highest level of professionalism in my opinion. I received the very best outcome in my case and I highly recommend them. Thank you! Deb Brosius
I contacted Mr. Hagood one late afternoon for some legal documents I needed by that evening, he took care of me with no hesitation and was quicker than I could have ever imagined. His responsiveness and dedication to what he truly loves and does is on point and he is a man of his word. Thank you Will Hagood for your kindness and for being true to your clients in need!
Great experience with Will Haygood. Responds promptly and very thorough.
From the moment I contacted Mr. Hagood and team, everyone was extremely professional and prompt with clear lines of communication. It's obvious they take each case as if it was their last, meticulous attention to detail and relentless follow up to ensure their clients get the absolute best outcome. Highly satisfied and would recommend to anyone looking for top tier legal representation.
I had the pleasure of being represented by Will Hagood and he was so awesome! He made my trial experience very stress free and I felt supported every step of the way. I definitely would recommend this firm to anyone in need of an attorney after a car accident. Thank you again Will and really appreciate all that you've done to help me. Hands down best service I've received!
The best Law firm that I've ever worked with!
Mr. Hagood and Mr. Jackson are incredible attorneys. I called Mr. Hagood late on a Friday with an urgent request to have documents prepared ASAP. He spent the weekend preparing and reviewing everything I needed, and had the job done by Monday morning. No goofy billboards.. Just 5-star service. Thrilled with the work and the professionalism.
Great firm! Would definitely recommend to family and friends!
Will Hagood is a high quality litigator who really knows his stuff. He went out of his way to help me and was able to answer all my questions. Definitely recommended for anyone seeking an attorney.