Jackson Hagood Personal Injury Lawyers
Meet Jackson Hagood
We're not afraid of automation & implementing innovative practices in our Georgia law firm.
We're built for a new millennium.
Managing Partner
Attorney Jacob Jackson is a partner with Jackson Hagood Trial Lawyers LLC in Atlanta, Georgia.
Partner/Injury Lawyer
Attorney William L. Hagood, IV is a partner with Jackson Hagood Injury Lawyers in Atlanta, Ga.
Call us at
(678) 335-5555
If professional and effective representation matters to you and your family, we can help.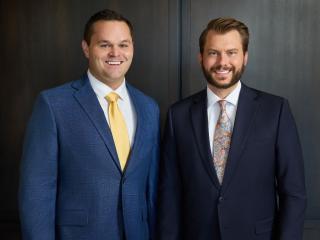 When you're injured in addition to facing pain and financial loss, the amount of paperwork is frustrating, we know how to help you navigate the process.
When you choose Jackson Hagood Trial Lawyers, you get a full-service concierge approach to your case evaluation and in-house dedication to faster solutions. That makes us your go-to personal injury lawyers in Atlanta, GA. Meet with us to get all of your documentation completed, and not lose sight of winning your case.